Yamaha Vocaloid 5.0.1 x64 with Libraries_LOL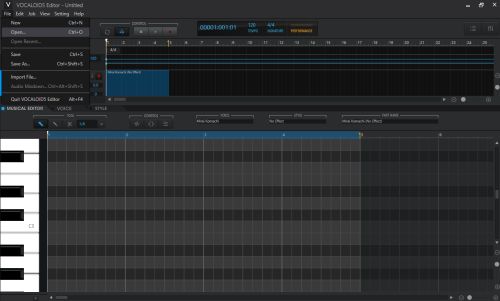 Yamaha Vocaloid 5.0.1 x64 with Libraries | 12.52 GB
The program for creating a synthesized voice (singing) Vocaloid5 version 5.0.1. Works as a separate editor and as a VSTi tool, there is support for ReWire, RealTime input, etc. In addition, the VST version for Cubase with the old interface and support for V5 libraries is attached.
Interface English and Japanese
The program is compatible with banks V3 and V4 – vocaloids, they can be downloaded here, on the rute tracker (subject V4 + all libraries)
Version: 5 Build 5.0.1
Developer: Yamaha corp
Format: STANDALONE, VSTi
Bit depth: 64bit
Tabletka: present
System requirements: Intel Core i3 or better
RAM: 4GB or more
Hard Drive: minimum 4GB
Windows 7 \ 8 \ 10 64bitExtras. Information:
In the distribution there are voice banks V5:
Japanese: Ken, Kaori, VY1V5, V2V5, Haruno Sora (Cool + Natural)
English: Amy, Chris, Cyber DivaII, Cyber Songman II
all the installers (editor and libraries) are original, all Visual C ++ and frameworks are put on the machine
under Win7 \ 8 can be a problem, I recommend to install. NET Framework 4.6.1 \ 4.6.2 MANUALLY if the editor crashes
1. Install the editor – VOCALOID5_Editor_5.0.1 (in the default folder, do not choose anything)
(who wants to have another version for the cube with the old interface and support for V5 banks – VOCALOID4_5_Editor_for_Cubase_4.5.0
but the V5 editor can work as VST \ Rewire \ Real-time, so the version for the cube can be you and will not be interested.
2. Install libraries, V3 \ V4 \ V5 libraries are supported, original or FE (FE is on the RUTREKER in the distribution with V4 + libraries), if you have already installed any of them, then this item can be skipped
3. Install the crack – VOCALOID5_try
VST DLL is automatically installed here – C: \ Program Files \ Common Files \ VST2, copy yourself then wherever you need
http://www.vocaloid.com/en/
Download link:

Links are Interchangeable - Single Extraction - Premium is support resumable